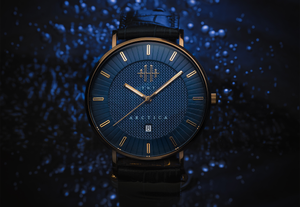 OCEAN VIBES
FEEL THE ARCHIPELAGO
Luxurious Ocean Vibes Collection offers exquisite style and sustainability.
Shop Collection
Introducing THT Arctica, a premium collection of watches that strike the perfect balance between style and sustainability. Designed and hand assembled in Finland with intricate details, each watch is a masterpiece of elegance and precision.
Every timepiece is crafted from the finest materials in the world, including precise Swiss movements, anti-scratch sapphire glass and high water-resistance.
These watches are not only a symbol of your impeccable taste, but also a reflection of your unique style. THT Arctica watches are designed to be worn with pride and passion to stand out from the crowd.