Behind the designs
A few years ago two gentlemen decided to challenge the modern fashion world with better, stronger and more sustainable timepieces.
Then we created something exceptional.
HOMETOWN
WATCHMAKING
These two guys are us. Ordinary people from a small town of Finland called Sipoo.
Here we have our own watch shop with the idea to change the world. You can read the rest of the story here.
THT represents a refreshing approach to traditional luxury watchmaking.
Simply put, we create high-class watches that don't break the bank.
THT Watches are designed and hand assembled in Finland, delivered straight from our craftsman table to you.
Greetings from Sipoo!
- Petja & Jato, Founders
INTRICATE
DESIGNS
THT signature dials feature uniquely displayed three-dimensional shapes to create an exceptional harmony of depth and clarity.
Inspired by the great history of watchmaking THT Watches are crafted from the finest raw materials with our passionate attention to detail in timeless and elegant style.
Impressive
SUSTAINABILITY
Our mission is to make high-quality watches easily accessible. Every THT watch is carefully designed and hand made with assets such as precise Swiss movement, thick and durable sapphire crystal glass and high water resistance.
This is our promise to guarantee sustainable fashion.
PURCHASE A THT WATCH AND
Receive more
Standard pricing for a high-class watch usually starts from 500 up to thousands of dollars on the watch market. The less expensive trend watches can be vulnerable to unwanted scratches and fatal malfunction due to low-cost components.
THT is here to change that. We offer high-class watches with a fraction of the standard retail price. So, how are we able to do this?
FAMILY COMPANY
traditions
THT Watches are designed and assembled at our own shop in Sipoo, Finland. After purchasing a watch from our online store, we start preparing your watch and ship the verified timepiece directly to you without additional retail costs.
You can save big money in the process compared to other luxury watch brands.
NATURAL
Characteristics
THT Watches are tailored to boost your style. Our interchangeable bracelets fit perfectly with all dress codes and exquisite outfits. No more sweat getting dressed!
A wristwatch plays such an important part of dressing. Wearing a watch signifies style of an influential person and complements wearer with natural authority.
After all, the difference between ordinary and extraordinary is that little extra.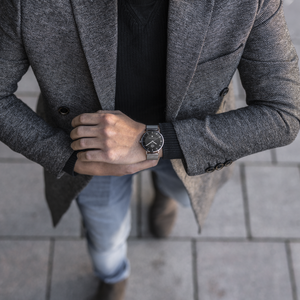 THT WATCHES
Our watch is made for her who dreams to touch the highest clouds. It's made for him who decides to take the undiscovered trails. THT is for the ambitious people extending their lifestyles.

Experience the highest level of luxury and feel the purest well-being. THT is the step to elevate life standards and let in for supreme satisfaction.
Shop Collection Now